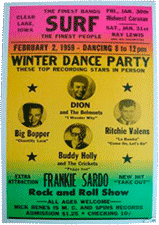 Some of these are all yellow instead of three colors. Wishful thinking all; most believe a real Feb. 2, 1959/Clear Lake poster was never made, as this fateful gig was a last-minute addition to the tour. And why the heck did the bootlegger give Dion top billing over the other three, more established stars?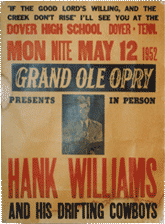 If the Good Lord's Willing, we'll never get another call about one of these, a concocted poster that fools a lot of people.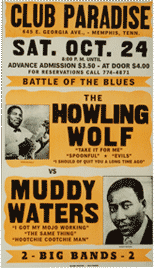 Some sources date this poster to 1964, but Club Paradise didn't exist yet, so blues experts have pegged it to 1970. An unfortunate bootleg that is 100% like the original, so many collectors just throw up their hands and walk away.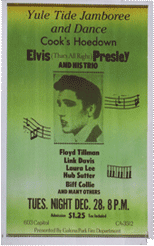 This had everyone snookered in the early days of serious poster collecting. If you got a "Letter of Provenance" like we did, feel free to shred it.
I will pay top dollar for authentic concert posters by any of these artists. In the meantime, details on this page's counterfeit posters: Elvis Presley and the Jordanaires at the Memorial Auditorium in Buffalo, N.Y., April 1, 1957 (and also referencing a similar phony poster from Jan. 21, 1956); The Elvis Presley Show Starring, In Person, Elvis Presley with an All Star Cast comprising The Jordonaires, Phil Maraquin, Frankie Connors, the Blue Moon Boys & others, at the Florida Theatre in Jacksonville, FL, Fri-Sat Aug. 10-11, 1956; Sid Bernstein Presents The Beatles In Person plus All Star Show at Shea Stadium in New York, NY, Aug. 15, 1965 (and also referencing the phony date of Aug. 23, 1965); Sid Bernstein Presents The Beatles In Person plus All Star Show at Shea Stadium in New York, NY, Aug. 23, 1966; the Surf (Ballroom) in Clear Lake, Iowa presents the Winter Dance Party on Feb. 2, 1959 featuring Buddy Holly and The Crickets, Ritchie Valens, Big Bopper and Dion and The Belmonts, plus extra attraction Frankie Sardo and Nick Benes as M.C.; Hank Williams and His Drifting Cowboys at Dover High School in Dover, Tenn., May 12, 1952; The Howling Wolf vs. Muddy Waters at Club Paradise in Memphis, Tenn., Oct. 24, 1970 (not 1964); and the Galena Park Fire Department presents Elvis Presley and his Trio plus Floyd Tillman, Link Davis, Laura Lee, Hub Sutter, Biff Collie and many others in a Yule Tide Jamboree and Dance at Cook's Hoedown in Houston, TX, Dec. 28, 1954.
Bootlegs & Repros | Bootleg Gallery 1 | Bootleg Gallery 2 | Bootleg Gallery 3
Tour-Blank Tutorial | Oddity of the Month
Before They Were Famous | The 1970s

PosterCentral.com Home | Cash For Your Stuff | Poster Gallery
Music Memorabilia | Blog | FAQs | Who Are We? | Contact